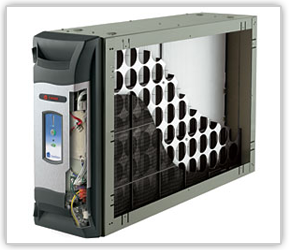 Did you know that in general, indoor air quality is four to five times more polluted than the outside air we generally complain about.  Thankfully Trane has developed the CleanEffects™ Air Cleaner for your home.
Setting the standard in air quality, the Trane CleanEffects™ Air Cleaner uses revolutionary technology that supplies your home with a cleaner, healthier environment, allowing you to breathe easier – literally. Remove up to 99.98% of airborne particles with our air cleaner for your home and say goodbye to worrying about breathing in harmful bacteria or allergens.
Here are some details of how the Trane CleanEffects™ Air Cleaner can improve the air quality in your home:
Highest efficiency
Standard air cleaners have filters that are very dense, so they stop the dust by trapping it in a slightly porous filter. The fewer the pores, the more dust it can trap. However, this not only stops the dust and dirt, but it also stops the air from moving as well. So, you may not be as comfortable, and less air is cleaned efficiently. This is called pressure drop. The revolutionary Trane CleanEffects™ Air Cleaner has the lowest pressure drop with the highest efficiency possible.
Small particles, large effects
Particles like dust, smoke and bacteria are often .3 microns or less. At that size, allergens can get deep into your lungs because they aren't filtered well by your nose and throat. An effective Trane air cleaner, such as Trane CleanEffects™, can reduce the presence of potential asthma and allergy attack triggers in your home, like dust, pollen, pet hair and dander, dust mites, mildew, lint, fungus, most tobacco smoke, cooking grease, and even bacteria.
Patented innovation
The Trane CleanEffects™ Air Cleaner utilizes patented, breakthrough air cleaning technology to remove up to an astounding 99.98% of airborne allergens from the air that passes through the filter. It catches particles as small as .1 micron, making it 8 times more effective than even the best HEPA room filters and up to 100 times more effective than a standard 1-inch filter.
Verified by Harvard experts
Trane CleanEffects™ has been performance-tested by LMS Technologies and Environmental Health & Engineering, Inc. (EH&E), with the results verified by professors from the Harvard School of Public Health, so you know you are getting an air cleaner for your home like no other.
Additional Features
Removal of up to 99.98% of particles and allergens from your filtered indoor air. It removes particles as small as .1 microns – 1/1,000th the diameter of a human hair – a size that eludes most air cleaners.
Low operating costs, with no replacement filters to buy.
Cleaning indicators easily visible on the outside of the unit.
Easy-to-clean filters. Just vacuum or rinse once every 3 to 9 months (depending on usage).
Easy installation.
Quiet operation.
We believe this product will improve the indoor air quality of your home. And who doesn't want that for their family?  Contact us and mention how you want to get the Trane CleanEffects Air Cleaner in your home.
Stacey Pearson, Owner