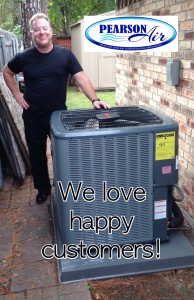 At Pearson Air, WE CARE!  We truly care about your wellbeing and we want to be a source of comfort to you and your family.  That comfort comes in a couple of ways, in my opinion:
1.  Educational Comfort – We want to be a source of education to you when you are looking to purchase a heating and air conditioning system for you home.  There are enough "unknowns" about a HVAC system and we want to educate you on the process and what things are important based on your SPECIFIC situation.  We want to be your "trusted source" for education on this topic!  For instance, what does HVAC mean?  Heating, ventilating and air conditioning – that is one simple piece of education and there are so many more!
2.  Technical Comfort – How many ways can a HVAC system be configured and wh
at is right for you?  Let us count the ways!  This is where most homeowners get "technical overload".  We don't want you to feel this way!  We can make things simple for you and relate all discussions to your SPECIFIC circumstance so that you have a level of comfort with the technology available to you.
3.  After the Sale Comfort – How many times have you made a major purchase and days or weeks later, you are not sure what you purchased and how to best operate this item?  We are here to help and we are an ongoing source of help!  We want you to have piece of mind and complete comfort in what you purchased from Pearson Air, therefore we will continue to educate you and work with you should you need more assistance.  One great way we do this is through our Pearson Maintenance Plans.  When you purchase a new HVAC system, continual maintenance is key to keep your system running in peak condition, year round.  This is great comfort to you knowing your new system will last to its full life expectancy because it will be maintained correctly.
I just love this picture below!  A happy customer beside their new outdoor condensing unit!
Please contact us if you have any questions or concerns, 817-226-7400!
Stacey Pearson, President